Author's Acknowledgements
Ellinoor Bergvelt
March 12th, 2021
This whole project started with the late Giles Waterfield, then ex-Director of Dulwich Picture Gallery. We had met at a conference in Hagen (Germany) in March 2006, where we each gave a lecture about nineteenth-century national museums, Giles about English ones and I about Dutch ones.1 We became friends. After completing my dissertation on nineteenth-century Dutch national art museums in 1998, I had devoted myself to similar research on the National Gallery,2 and consequently I was often in London archives. Giles was in the habit of hosting dinners at his London home, inviting people from his network each time in different combinations, to promote conversation and in the hope that the guests would mutually benefit from each other. On a Summer evening in 2007 my late husband Michiel Jonker and I were invited with Xavier Salomon, then Curator of Dulwich Picture Gallery. Xavier brought a manuscript of the catalogue of the Dutch and Flemish pictures in that Gallery. He had the idea that it was not quite up-to-date, and asked us whether we could improve it. We agreed. The arrangement was that Michiel would deal with the paintings and that I would write an introduction to the appreciation for Dutch and Flemish paintings around 1800, the period when the most important part of the collection in Dulwich was formed by Noel Desenfans and Francis Bourgeois.

We went for a month each July/August to work in the Library of Dulwich Picture Gallery, where Michiel studied the files of the paintings and the conservation files. I read material including the manuscript catalogues of 1858 and 1859 by Stephen Poyntz Denning, the second Keeper of the Gallery, and the archival boxes, many the result of research into the history of Dulwich Picture Gallery, a focal point in Giles Waterfield's policy as Director. Several exhibitions had been organized, and accompanying catalogues published.3

As Michiel and I both had other tasks it took some time before we could finish the updating of the manuscript. It helped that we could stay in London for half a year in 2011 and for three months in 2012. We felt quite privileged working in the Dulwich Picture Gallery. We had a daily routine: with the bus (12, 176 or 185) to Dulwich Library, a walk through the park, work in the library of the Gallery (which doubled as the Curator's office) [1], interrupted by coffee, and after coffee usually a tour of the museum to take another good look at the paintings. We both worked well with the DPG staff. We even got nameplates, which are used when there is a fire [2]. Michiel in particular maintained close contact with everyone who worked there: the Curators – after Xavier Salomon, Xavier Bray – and the Conservators, Sophie Plender and Tom Proctor; the Assistant Curators, Sarah Moulden, Valentina Ravaglia, Sorcha Ní Lideadha and Hettie Ward (who was Curatorial Fellow); and the Director, Ian Dejardin. Michiel was also friends with the attendants, the carpenter, the electrician and the people running the shop. He was a very social person. Thanks to the action of Sorcha Ní Lideadha, who organized a meeting with the publisher (then Unicorn), in which we reached agreements, the project gained momentum. In March 2012 Emily Lane was appointed to edit our texts.

After the death of Michiel in March 2014 I had to take over his realm, the paintings. He had finished most of the work, going through the green boxes in the RKD (which from 2021 is no longer possible: you have to use the digital Viewer) and many books on Dutch and Flemish painting. In addition, he had spoken to many experts (see the list below). It had led to several new attributions (see the Index by DPG inventory number, which shows the differences in attributions compared to Beresford 1998). All he had to do was to visit the Rubenianum in Antwerp to see if Ludwig Burchard's notes there provided any new information about the Rubens and other Flemish paintings in Dulwich. So in 2015 I went alone to the Rubenianum, where I was warmly welcomed by Véronique Van de Kerckhof and well assisted by various people working there, especially Bert Watteeuw.

Because I was actually a nineteenth-century specialist, I had to familiarize myself with the publications on seventeenth-century Dutch and Flemish paintings. To keep abreast of recent developments, I was able to join the informal research group at the University of Amsterdam which was organized by Frans Grijzenhout, Professor of Art History of the Early Modern Period, and his predecessor, Eric-Jan Sluijter. The conferences organized by the Historians of Netherlandish Art were also of great importance. I was a member of CODART until the end of 2019; their visits to Prague in 2012, still with Michiel, to Edinburgh in 2018, and to Belgium in the same year were especially important for the Dulwich project. In December 2013 Gerdien Verschoor and Maartje Beekman of CODART held a Focus meeting at Dulwich, where Michiel and I presented our findings so far and had discussions about Michiel's new attributions [3-5].4

It became a completely new project in 2015, before the publication of the book: Chris Stolwijk of the RKD decided, in consultation with Ian Dejardin, then Director of Dulwich Picture Gallery, to publish the catalogue online, since the book of 2016 would be an abridged version [6].5 The original version of our text contained many links to websites which do not work very well in a printed book, so they had been left out. The new project meant that the 228 paintings in the Dulwich collection had to be placed in the database of RKD images if they were not already there. The same was the case with many of the works of art mentioned in the texts. That was quite a job, with Ineke Goudswaard assisting me every Tuesday at the RKD. It also involved translating records when they were not yet available in English. We did the same with the artists represented in Dulwich in the RKDartists& database. We also improved the images. Since during this period I had several other projects, it took until January 2021 before all the entries were updated and links to the two RKD databases were provided. The fact that I had not worked at the RKD since the coronavirus measures were instituted in March 2020 made the checking of publications quite a challenge. Luckily the Library of the Rijksmuseum was open every now and then. Dirk Torenvlied of the RKD Library provided many scans of publications.

All entries have been very conscientiously edited, even repeatedly (if a further publication or artwork had to be incorporated), by Emily Lane. Rieke van Leeuwen of the RKD took up the project efficiently and turned the Word documents into a series of online catalogue entries, editing the texts and improving the images in the meantime. In this we were assisted by Paul van Kooij, Marieke de Natris, Diteke de Ruijter-Ekema, and, again, Dirk Torenvlied of the RKD.

There are several differences between the book published in 2016 and this online version – not only the many links to the two RKD databases but also links to many other websites of museums and other cultural institutions. Quotations where Dulwich paintings are mentioned in (auction) catalogues or art-historical texts have (usually) been reproduced in full. In the case of foreign languages, translations into English have been supplied. The ancillary works of art discussed in the entries are set out in a list of Related works, which precedes the entry text itself. In the biographies more emphasis has been placed on the Nachwirkung (after-effect) of the Dutch and Flemish seventeenth-century paintings than in the book, which makes this publication all the more in line with the Gerson Digital project at the RKD, conducted by Rieke van Leeuwen. The Gerson Digital project is dedicated to the translation of Gerson's seminal book, Ausbreitung und Nachwirkung der holländischen Malerei des 17. Jahrhunderts (Dispersal and After-Effect of Dutch Painting of the Seventeenth Century), which appeared originally in 1942 (re-edited in 1983).6

The project was also warmly supported in this final phase by the current director of Dulwich Picture Gallery, Jennifer Scott. Together with the current Assistant Curator, Helen Hillyard, she created the beautiful exhibition of Rembrandt's Light.7 Helen was also there for me whenever I had last-minute questions.

This is the list of people who first helped Michiel and then me in a variety of ways, for which many thanks: Bernard Aikema, Nadine Akkerman, Mieke Alberts, Rea Alexandratis, Stijn Alsteens, Piet Bakker, Stefan Bartilla, Tim Batchelor, Pieter Biesboer, Martin Bijl, Jonathan Bikker, Yvonne Bleyerveld, Marten Jan Bok, Christopher Brown, Nils Büttner, Quinten Buvelot, Nina Cahill, Eva Cappon, Toby Capwell, Alan Chong, Remmelt Daalder, Christine Delhaye, Stephanie Dickey, Bas Dudok van Heel, Renée Duinker, Ellis Dullaert, Charles Dumas, Rudi Ekkart, Mark Evans, Jan Piet Filedt Kok, Nathan Flis, Pamela Fowler, Michiel Franken, Jeroen Giltaij, Lia Gorter, Ineke Goudswaard, Joris Van Grieken, Sophie van Gulik, Johnny van Haeften, Fergus Hall, Astrid Harth, Ebeltje Hartkamp-Jonxis, Fiona Healy, Kate Heard, Karen Hearn, Jan Jaap Heij, Lars Hendrikman, Jasper Hillegers, Claudia Hörster, Olenka Horbatsch, Nico Van Hout, Peter Humfrey, Linda Jansen, Paul Joannides, Matthijs Jonker, Marika Keblusek, Peter Kerber, Alison Kettering, Paul Knolle, Jan Kosten, Susan Kuretsky, Suzanne Laemers, Friso Lammertse, Anne Leclair, Huigen Leeflang, Bernt Lindemann, John Loughman, Maximiliaan Martens, Gregory Martin, Pippa Mason, Elizabeth McGrath, Lynda McLeod, Fred Meijer, Norbert Middelkoop, Marijke Moens, Tom van der Molen, Bianca du Mortier, Manon van der Mullen, Bas Nederveen, Harm Nijboer, Sander Paarlberg, Sophie Plender, Michiel Plomp, Almut Pollmer-Schmidt, Marleen Ram, Michael Ripps, Juliette Roding, Bert van de Roemer, Martin Royalton-Kisch, Agata Rutkowska, Jef Schaeps, Peter Schatborn, Laurens Schoemaker, Gary Schwartz, Tico Seifert, Jan Six XI, Eric Jan Sluijter, Nicolette Sluijter-Seijffert, Guus Sluiter, Hillie Smit, Irina Sokolova, Katlijne Van der Stighelen, Ad Stijnman, Ilona van Tuinen, Nicolas Turner, Jaap van der Veen, Elizabeth Vandeweghe, Ilja Veldman, Alejandro Vergara, Bert Watteeuw, Betsy Wieseman, Christopher Wilson and Gerdien Wuestman.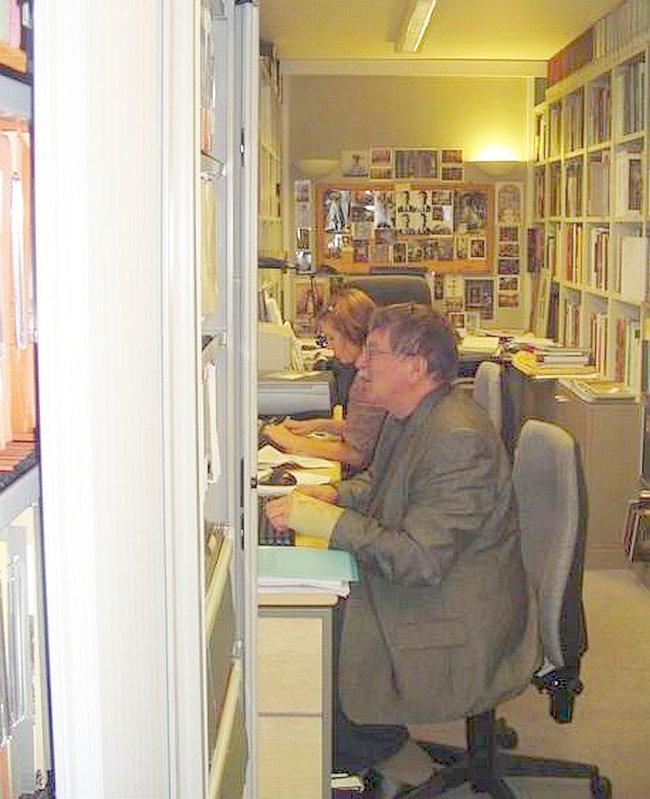 1
Michiel Jonker at work in the Library annex Curatorial Office of Dulwich Picture Gallery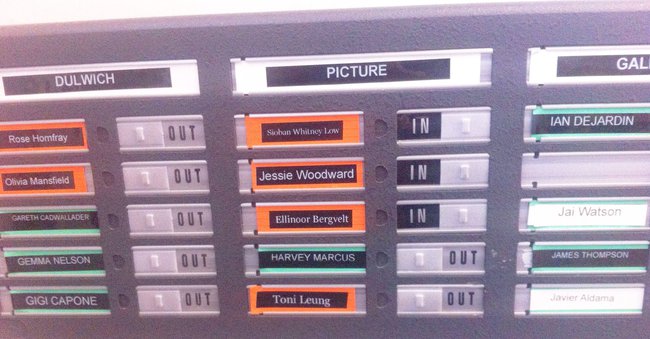 2
Nameplates in Dulwich Picture Gallery, August 2015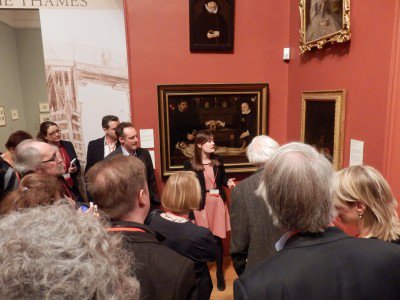 3
CODART Focus meeting Dulwich Picture Gallery, December 2013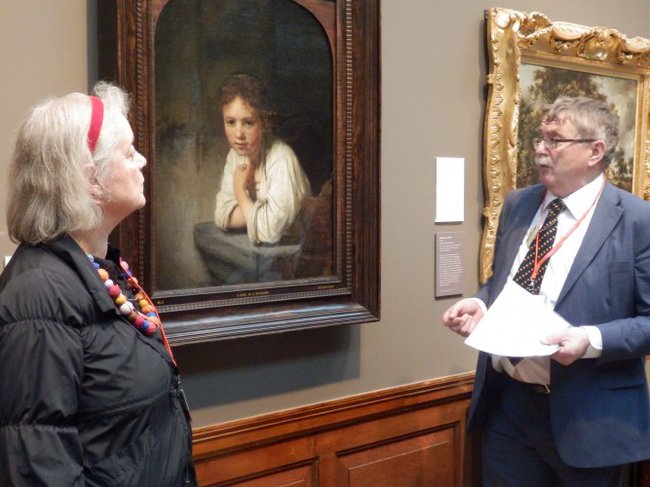 4
Michiel Jonker and Ellinoor Bergvelt, CODART Focus meeting Dulwich Picture Gallery, December 2013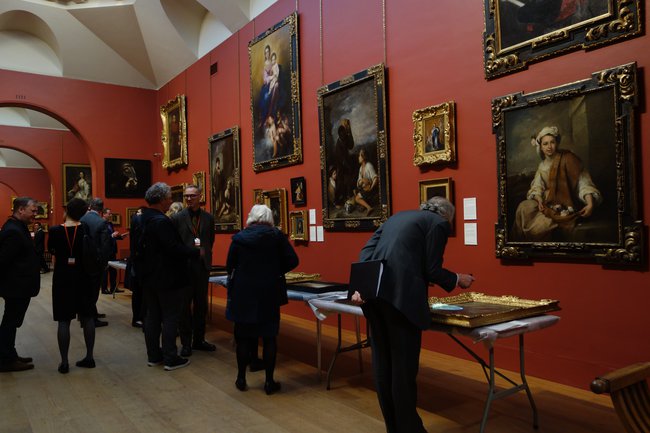 5
CODART Focus meeting Dulwich Picture Gallery, December 2013
Photo: Carla van de Puttelaar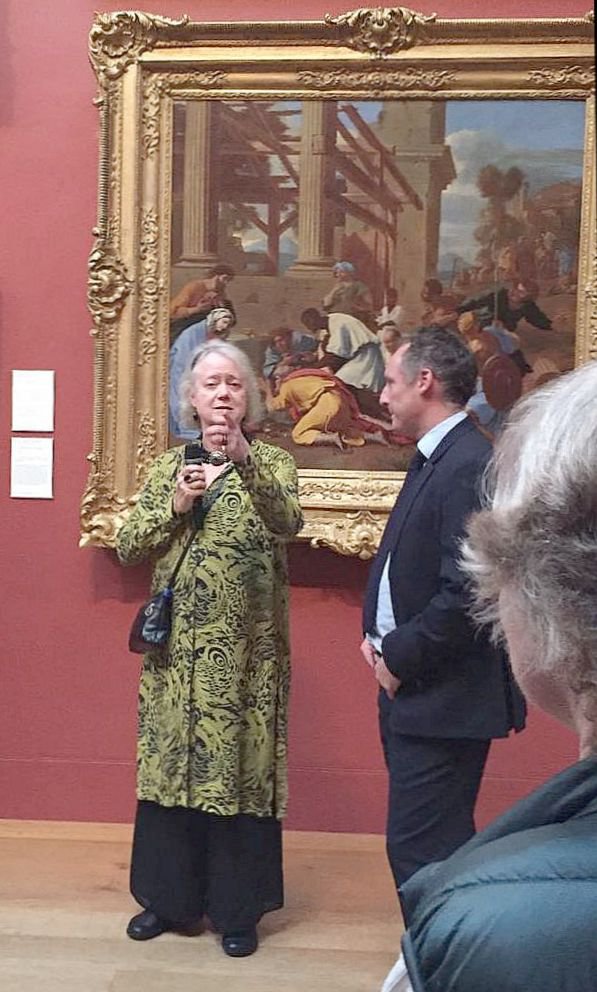 6
Ellinoor Bergvelt and Xavier Bray during the launch of the 2016 catalogue, October 2016
---
Notes
1 The lectures were published later: Waterfield 2011 and Bergvelt 2011.
2 Bergvelt 1998 (about the Rijksmuseum and Mauritshuis) and Bergvelt 2013 and Bergvelt 2015 (both about the National Gallery).
3 For instance Kalinsky & Waterfield 1987 (about William Cartwright); Reid & Maniura 1994 (about Edward Alleyn); and Waterfield 1987 and Waterfield 1996 about Sir John Soane, the architect of the gallery.
4 https://dulwichonview.org.uk/2014/01/29/curators-from-around-the-world-descend-on-dulwich/
5 The text of the published version had been peer-reviewed by Christopher Brown, Karen Hearn, Gregory Martin and Elizabeth McGrath.
6 The work is translated, critically annotated and illustrated online, supplemented with new articles on artistic exchange and transnational mobility of artists from the Low Countries in the early modern period. The following volumes have so far been published: Poland (2013/2014); Denmark (2015); Germany I (2017/2018); Germany II (2018); Italy (2019) and Masters of Mobility (2020). See https://rkdstudies.nl/rdk-series/.
7 Scott & Hillyard 2019.